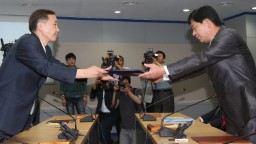 In a clear sign that the severely strained relations between the two sides is slowly improving, North Korea has agreed to a proposal from the South that they resume the reunion of families separated in the 1950-53 Korean War.
The meetings would take place on September 19, during the Chuseok harvest festival, the North Korean news agency KCNA reported Sunday.
North Korea set off months of unsettling tensions with a long-range rocket launch in December followed by an underground nuclear test in February.
The North's menacing rhetoric against the United States and South Korea hit a fever pitch in March and April after the U.N. Security Council voted in March to slap tougher sanctions on the regime and amid U.S.-South Korean military drills in the region.
The KCNA report said the North and the South, following an agreement to reopen the Kaesong Industrial Zone, will talk about the possibility of resuming cross-border tours at Mount Kumgang.
The Kaesong Industrial Zone, is an industrial complex the two nations share. It's been closed since April when the North pulled out its workers.
Mount Kumgang is a North Korean resort where a South Korean tourist was shot by a North Korean soldier in 2008 after allegedly walking into an off-limits area. The reunion will take place at the resort.
"The Kaesong Industrial Zone and the tours to Mt. Kumgang resort are valuable works common to the nation which should not be delayed as they are symbols of reconciliation, unity, reunification and prosperity," the KCNA report said.