The highly anticipated 2013 MTV Video Music Awards went off with a bang Sunday night at the newly oppened Barclays Center.
Starting the festivities was Lady Gaga who donned wigs and ensembles representing various Gaga eras during her "Applaause" performance getting everyone in the crowd like Will Smith and daughter,Willow Smith grooving.
As is usual with her fashion style,Gaga went almost topless,stripping down to a seashell bikini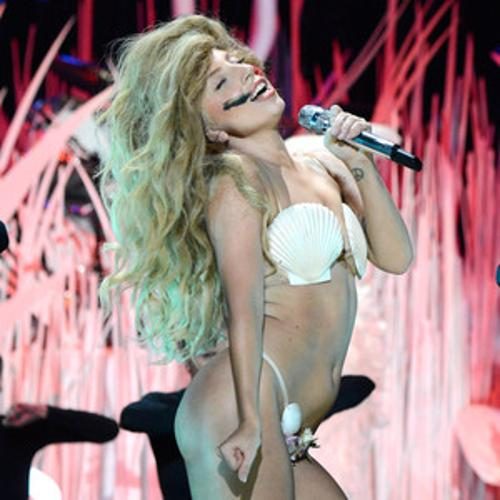 Then came Miley Cyrus stripping down to a yellow two piece while performing and grinding to "Blurred Lines" with Robin Thicke.Well,Robin clearly approved of thias can be seen in his tweets after.
Did I mention Selena Gomez and Taylor Swift rocking out during Miley's performance which included the performers which Miley brought along from her fave LA Club,Beachers Madhouse?Well,it did happen.
The biggest moment however was 'N Sync's reunion during Justin Timberlake's performance.
While Justin was performing a medley of his hits,all members of 'N Sync interrupted to perform a medley of their own hits on stage and this got the audience freaked real good.
That's not all on the list of surprise star turn.Macklemore and Ryan Lewis' "Same Love" performance included a surprise appearance by Jennifer Hudson.
Moving on to the awkward moments,Taylor Swift really did drop an F-bomb while One Direction and ex Hrry Styles were on stage.
Another awkward moment for the ex-couple?While accepting the award for Best Female video for 'I Knew You Wre Trouble',Taylor said thanks to,"who I wrote this song about cause you know who you are and now I have ths award." Harry had a smirk across his face at this point while chewing on his gum.
Miley's hair also made the awkward list.
Speakng of One Drecton,the band may have won Best Song of the Summer against Miley Cyrus,Calvin Harris & Ellie Goulding,Daft Punk and Robin Thicke but when they went up to receive the award,the audience booed them boys.
Katy Perry closed the show wth a live performance of her hit sngle "Roar" outside under the Brooklyn Bridge.
Find the full list of award winners below
MTV VMAs full list of winners
Video Of The Year: Justin Timberlake, Mirrors
Best Female Video: Taylor Swift, I Knew You Were Trouble.
Best Male Video: Bruno Mars, Locked Out of Heaven
Best Pop Video: Selena Gomez, Come & Get It
Best Hip-Hop Video: Macklemore & Ryan Lewis featuring Ray Dalton, Can't Hold Us
Best Rock Video: Thirty Seconds to Mars, Up In the Air
Best Collaboration: Pink and Nate Ruess of Fun., Just Give Me a Reason
Best Video With A Social Message: Macklemore & Ryan Lewis featuring Mary Lambert, Same Love
Best Song Of The Summer: One Direction, Best Song Ever
Artist To Watch: Austin Mahone, What About Love
Michael Jackson Video Vanguard Award: Justin Timberlake
Best Direction: Justin Timberlake's Suit & Tie (director David Fincher)
Best Visual Effects: Capital Cities, Safe and Sound
Best Choreography: Bruno Mars, Treasure
Best Art Direction: Janelle Monae featuring Erykah Badu, Q.U.E.E.N.
Best Cinematography: Macklemore & Ryan Lewis featuring Ray Dalton, Can't Hold Us
Best Editing: Justin Timberlake, Mirrors