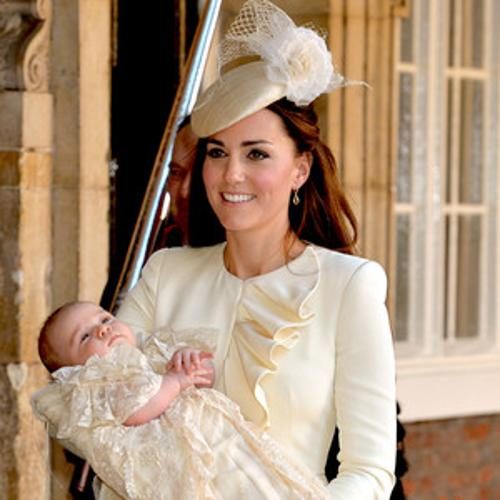 The big day has finally come and Kate Middleton has once again stolen the spotlight with her Alexander McQueen number(sorry Prince George :D)
During the royal christening ceremony in London Wednesday,the Duchess of Cambridge was the picture of elegance in a ruffled Alexander McQueen jacket and skirt.The cream ensemble closely matched the colour of the lil Prince'smown robe.Kate's look,however,came with a matching Jane Taylor fascinator-one of her fave accessories.
By her side was husband,Prince William who was in a navy suit with sky blue tie.Prince George(not to be forgotten)also looked extra adorable in an all white Spitalfields silk satin gown made by the Queen's couturier,Angela Kelly.
After Prince George's godparentsand relatives entered the Chapel Royalin St James' Palace on Wednesday,Oct 23,Prince William and Kate Middleton gave the first glimpse of their 3month old son since his first official portraits were unveiled in late August.The Archbishop of Canterbury,Justin Welby presided over the intimate service.Kate's parents,Michael and Carole arrived with her siblings,Pippa and James.William's youngerbrother,Prince Harry came with his grandmother as well as Prince Charles and Camilla Parker Bowles.
The palace announced hours later that seven people will share the responsibility of being George's godparents-Olivia Baker,Emilia Jardine-Peterson,Earl 'Hugh' Gosvenor,Jamie Lowther-Pinkerton,Julia Samuel,Zara Tindall and William van Custsen.
The baby was baptized in the Lily Font using water from the River Jordan.Queen Victoria and Prince Alvert commissioned the silver font for the birth of their first child,Victoria,Princess Royal,in 1840.It has been used ever since for every royal christening.
After the 45 minute service,Prince George's paternal grandparents hosted a private tea in Clarence House.Guests were served slices of the christening cake which is a tier from the Duke and Duchess of Cambridge's wedding cake.
Pictures from the christening by the official photographer are expected by Thursday,Oct 24.
According to statements from the palace,Prince William and Kate Middleton chose two hymns,two lessons and two anthems for the 45minute service.
The hymns include "Breathe on Me,Breath of God" and "Be Thou my Vision"
Aunty Pippa Middleton and Uncle,Prince Harry participated by reading the lessons which were St. Luke 18:15-17 and St.John 15:1-5 respectively.The two anthems chosen were "Blessed Jesu!Here we Stand" by Richard Popplewell and "The Lord Bless You and Keep You" by John Rutter."Blessed Jesu!Here We Stand" was written for Prince William's baptism which held on Aug. 4,1982 therefore it has a special significance for the royal family.
more pictures after the cut...